The Holy Cross Mothers' Guild at Notre Dame H.S., Sherman Oaks, continues to touch the lives of children in the inner-city at Christmas. Nativity Catholic School, located in the Vermont District of South-Central Los Angeles, was the recipient of their love and thoughtfulness.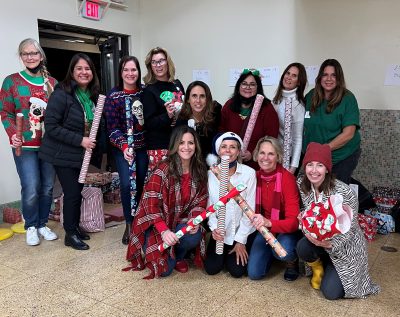 For the past six years, the Holy Cross Mothers' Guild, moderated by Colleen Pace, blessed students in grades TK through 8th with toys, books, art supplies, gift cards and more. Guild mom's Karin Muff, Dawn Hammitt, Vicky Ameriso, and NDHS student Martin Ameriso joined Santa Claus (8th grade teacher Mr. Simonds) visiting classrooms handing out bags full of Christmas presents. Nativity parent Ms. Aceves and principal Mrs. Teresa Reynoso-Gonzalez was on hand taking photos and enjoying students as they opened gifts. "The smiles on the children's faces are priceless," says Karen Muff, Legacy member and former NDHS parent. "We are truly grateful to Notre Dame, its students and families for their serving hearts," says Susan Armendariz, Director of Marketing and Development at Nativity Catholic School.
A huge thank you to the guild for wrapping each gift with care. The generosity of spirit comes naturally to Notre Dame High School, whose mission is carried out in all they do by educating the hearts and minds of students.
It's been said – a picture is worth a thousand words. Please click here to witness great joy; it is in giving that we receive the greater gift, the gift of joy.
"We need to see each child as a gift to be welcomed, cherished and protected." Pope Francis