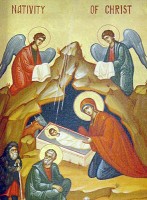 The Nativity of Jesus, or simply The Nativity, refers to the accounts of the birth of Jesus, primarily based on the two accounts in the gospels of Luke and Matthew, and secondarily on some apocryphal texts.
The canonical gospels of Luke and Matthew describe Jesus being born in Bethlehem, in Judea, to a virgin mother. Luke features the Christmas narrative, in which Joseph and Mary, as part of a census, travel to Bethlehem, where Jesus is born and laid in a manger. Angels proclaim him a savior for all people, and shepherds come to adore him. In Matthew, wise men follow a star to Bethlehem to bring gifts to Jesus, born the King of the Jews. King Herod massacres all the toddler boys in Bethlehem to kill Jesus, but the holy family flees to Egypt and later settles in Nazareth. 
The main religious celebration among members of the Catholic Church and other Christian groups is the Church service on Christmas Eve or on the morning of Christmas Day.