Hi Saints!
I pray you are all well and safe!
Happy 7th week of distance learning! You are all doing such a marvelous job and I could not be more proud of you!
Here's what I'd like for you to do today:
1.) Click on the PDF attachment:Oct. 1st 2020 ANNOUNCEMENTS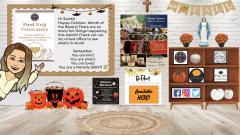 2.) Once open, click on the following images/links to access information or fun content.
First Communion Poster- Click here to access the First Communion Parent Meeting via Zoom on Wednesday, October 7th at 6:00pm!
Mary Statue- Click here to access Rosary guides! Join our community in praying the Rosary this month!
Charleston Wrap Catalog Poster- Click here to access instructions for selling items through the online store!
October Calendar- Click here to see this month's school calendar!
Halloween Boo Gram Poster- Click here to see the flyer for Boo Gram donations! Help Student Council have a successful fundraiser!
Halloween Candy Buckets- Click here to see the flyer promoting our 2020 Boo Gram sales! A delivery option is available!
School Logo Icon- Click here to access our website!
FACTS Icon- Click here to visit our school's FACTS homepage! If you haven't already signed up, make sure you do to make your tuition payments online!
Social Media Icons- Click on there to visit our Facebook, Instagram, and Twitter pages! Be sure to follow us!
Stay safe and stay blessed! Always remember, your Nativity School family loves you and we cannot wait to welcome you all back home when it is safe to return.
Blessings,
Mrs. Reynoso-Gonzalez