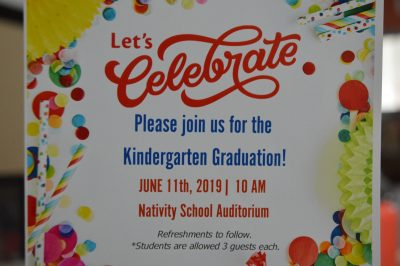 Nativity School celebrated Kindergarten Graduation Day on June 11, 2019. Students dressed up with nice attire and performed different activities like music and dance, which was enjoyed by all gathered.
Mrs. Teresa Reynoso-Gonzalez, Principal, in her address complimented the graduates on their achievements, also congratulated the teachers for their dedication and hard work in shaping the students through education and other co-curricular activities.
The most important part of the day- Graduation Ceremony started with the kindergarteners dressed in graduation robes and caps walking to stage. The Principal along with their teacher felicitated the students with Certificate of Graduation. Students looked wonderful in their graduation robes and caps. The program ended with the Kindergarten Teacher, Ms. Sanchez, thanking staff members and 7th grade buddies for their support throughout the year.
It was indeed a joyous and memorable day for not only the little ones, but also a proud moment for parents and family members as they witnessed their children receiving Kindergarten Graduation Day Certificates.
May God bless these tiny "graduates" as they continue their education!
Click here for photos.