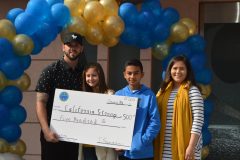 Nativity students present a $500.00 donation check to professional baseball player Mikey Moustakas for his charity, California Strong. In response to the recent tragedies in California, professional baseball players Mike Moustakas, Christian Yelich, and Ryan Braun, along with Rams Quarterback, Jared Goff, joined forces with the Southeast Ventura County YMCA to create California Strong. California Strong is committed to raising money and awareness to support those affected by the Borderline Shooting in Thousand Oaks, the Camp Fire in Northern California and the Woolsey and Hill Fires in Southern California.
Nativity students have been on the receiving end of generous donations to continue their education. They understand the value of coming together to help those in need and wanted to make a difference in the lives of others. "The Students were very excited to contribute to California Strong and ask Mike questions", says Susan Armendariz.
Our theme for Catholic Schools week is LEARN, SERVE, LEAD, SUCCEED. This morning we were fortunate to have Mike Moustakas speak to the student body. Mike lives his life with these themes as his motto; a man who Learns to work together with his team, Serves communities every chance he gets, Leads his team to victory and Succeeds when he works together with others.
We are thankful to Mike for speaking with our students about giving back. We are grateful to California Strong for helping so many families in need. Thank you to the students of Nativity and their families for their amazing donations to California Strong.