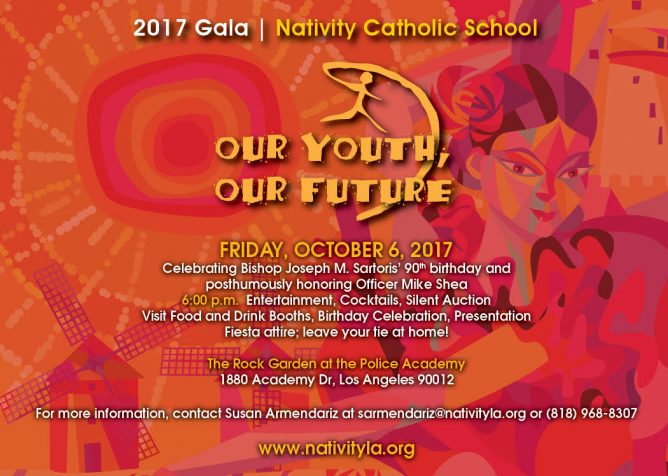 Please mark your calendars for Friday, October 6, 2017. Nativity will host a fun-filled Fiesta Party, which will include delicious food booths, tequila tasting, margarita and Mexican beer booths, mariachis, folkloric dancers and so much more at the Los Angeles Police Academy. We are blessed to honor our dearest friends and champions, Bishop Joseph Sartoris, as we celebrate his 90th birthday, and Officer Michael Shea, posthumously, for his tireless dedication to the children of South Central Los Angeles—they have truly created a powerful difference for our citizens of tomorrow.
Become a Beacon of Hope for Nativity by being an Event Sponsor
Click here to purchase tickets or ad space
Bishop Joe was born and raised in the heart of Los Angeles, and has been praised as a "people's priest and Bishop." As pastor and shepherd, he has long been admired for his deep spiritual life, his good-hearted nature, his generous service and his untiring efforts to bring about healing and reconciliation. Mike dedicated his career to public service. He loved his work and found great joy in working with the community to make it a better place to live and work. Mike's motto was, "I do it for the children." Joe and Mike are our Beacons of Hope.
We hope you will join us in honoring Bishop Joe and the Shea Family and in supporting Nativity—one of South LA's highest-performing TK-8 schools. Our largest fundraising event of the year, proceeds from the Beacon of Hope Gala will directly support our school's academic and leadership programs that successfully develop the talents, character and intellectual potential of hundreds of at-risk students in our South Los Angeles community, providing them an educational solution out of poverty.
With your support, we can continue to provide this tradition of academic excellence that puts our students on a pathway to college not otherwise available to them in their community. 
Your involvement will guarantee the event's success, and serve as an important testament to our children working to elevate their lives through education.
On behalf of our students and their families, I hope you will consider becoming a Beacon of Hope for Nativity by being a sponsor or purchasing an ad in our Program/Tribute book. I have enclosed sponsorship information, but if you have any questions, please contact Susan Armendariz at (818) 968-8307 or email click here.
Blessings,
Mrs. Yanira Gomez
Principal