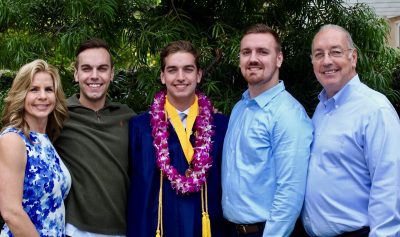 Please join us at Nativity School on Saturday, September 14, 2019 beginning with Mass at 4:30 p.m., where Nativity will host a truly extraordinary event benefiting the children of Nativity School in South Los Angeles. I am referring to Nativity's 8th Annual Beacon of Hope Casino Night honoring Michael and Diana Allegretti, and their sons Mikey, Matthew and Dominic, for their years of dedication to Catholic schools. The Allegretti family exemplifies the meaning of family and believes in the importance of a Catholic education; supporting students from primary school through college. Their generous support has allowed for us to ensure that we are equipped with the necessary tools for helping us move forward with our technology vision.
Michael and Diana are our Beacons of Hope!
Our only fundraising event of the year, proceeds from the Beacon of Hope Casino Night will directly support our school's academic and leadership programs which successfully develop the talents, character and intellectual potential of hundreds of at-risk students in our South Los Angeles community, providing them an educational solution out of poverty.
Click here to purchase tickets, ad space or to become an event sponsor »