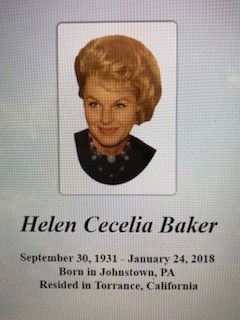 We are sad to share the passing of Nativity graduate Helen Cecelia Baker, Class of 1944. Helen passed away peacefully, in Torrance, CA, surrounded by family.
We send our love, thoughts and prayers to the Baker Family.
#RIPHelen #AlwaysInOurHearts
Service – Friday, February 2, 2018 at 9:30 to 10:00 a.m.
St. Anthony of Padua Catholic Church
1053 W. 163rd Street
Gardena, CA US 90247
Reception – Friday, February 2, 2018 from 11:00 to 12:00 p.m.
Lighthouse Memorials & Receptions – McMillan Center
1016 W. 164th Street
Gardena, California 90247
Helen Cecelia Baker was born September 30, 1931 in Johnstown, Pennsylvania as the youngest of three children. The family relocated to Los Angeles, California in 1936. She attended Nativity Elementary School and completed her education at Conaty Girls High School in Los Angeles. She worked at the Long Beach Naval Base and was considered "Mom Helen" by many young sailors and their families. She was also an integral and loving parental figure in the lives of all her extended family and loved to entertain them with her many jokes. She gave to numerous charities and those in need. Her favorite companions throughout her life were her German Shepherd dogs, most of them named "Thunder". She was a friend to many and will be missed by all!
Helen passed away peacefully on Wednesday January 24, 2018 in Torrance, California. She is survived by her brother Laurence Rozunko of Ventura, son John Baker of Torrance, grandson Luke Luce of Loma Linda, great-grandson Isaiah Luce of Loma Linda and great-granddaughter Leila Luce of Loma Linda, nieces Shelley (Jim) Taylor of Aliso Viejo, Rita (Rob) Robinson of Fallbrook, Renee Rozunko (Jimmy) of Laguna Niguel, Roberta (John) Nordskog of Capistrano Beach, Rosemary (Sylvain) Palmer of Laguna Beach and nephew Greg (Renee) Rozunko of San Clemente, 17 grand nieces and nephews, 5 great grand nieces and nephews and "Ace" her German Shepard.
She was preceded in death by parents Andrew and Hazel Rozunko and brother Robert Rozunko.
The Rosary will be held on Friday February 2, 2018 at 9:30 am and funeral Mass at 10:00 am, both at St Anthony of Padua Catholic Church. A reception will be held at Lighthouse Memorial and Receptions-McMillian Center in Gardena from 11 am-12 pm. She will be laid to rest at Holy Cross Cemetery in Culver City.